องค์การอนามัยโลกประกาศการระบาดของโคโรนาไวรัส "สถานการณ์ฉุกเฉิน"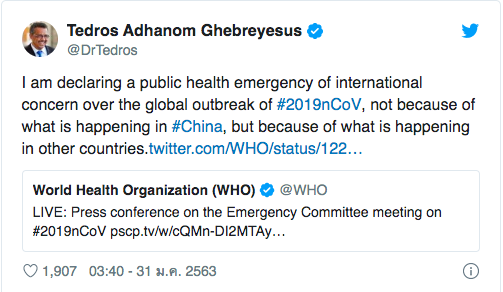 ผู้อำนวยการองค์การอนามัยโลก นายแพทย์เทดรอส อัธนอม เกเบรเยซุส (Dr. Tedros Adhanom Ghebreyesus) กล่าวต่อผู้สื่อข่าวที่สำนักงานใหญ่ในกรุงเจนีวาว่า เหตุผลสำคัญของการประกาศให้การระบาดของโคโรนาไวรัสที่มีศูนย์กลางอยู่ที่เมืองอู่ฮั่น เป็น "ความฉุกเฉินด้านสาธารณสุขระหว่างประเทศ" ไม่ใช่เพราะสถานการณ์ที่เกิดขึ้นในประเทศจีน แต่เป็นเพราะการพบผู้ติดเชื้อในประเทศอื่นเพิ่มขึ้นเรื่อย ๆ
The World Health Organization announced Thursday that the outbreak of a deadly and fast-spreading strain of coronavirus constitutes a global health emergency.
"Over the past few weeks, we have witnessed the emergence of a previously unknown pathogen, which has escalated into an unprecedented outbreak and which has been met by an unprecedented response," WHO Director-General Tedros Adhanom Ghebreyesus told reporters in Geneva.
"The main reason for this declaration is not what is happening in China but what is happening in other countries," said WHO chief Tedros Adhanom Ghebreyesus.